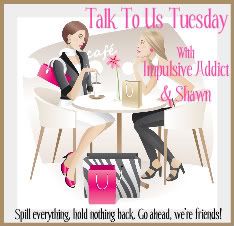 Hey friends and first time visitors!

Shawn

and I are here spilling secrets and talking about it. Care to join us? Link up your Tuesday post with us down below. There are NO RULES!
But a shout-out or our adorable button in your post would be greatly appreciated.
Well, as you are reading this, I am leaving my lovely co-host's gorgeous mansion house and heading back to Okieville. We had so much fun! Here are some highlights for you and things I've learned on my trip:
DO NOT add OJ to Shawn's margarita.

She likes vibration between her legs.

She will whistle at strange men standing on the side of the street.

She hits her kids.

She talks to Honey about orgasms.

She makes an interesting vajayjay symbol that a teenager taught her.

Crotchless panties were talked about over sushi.

She taught me phrases like "poke and hope", "spray and pray", and "baby batter".

Two Depends are not enough to hold her full bladder if she needs to tinkle while driving.

If you choose not to wear your seatbelt, she will brake-check your face into the dashboard and laugh so hard that she will pee. Again.

She pee's her pants OFTEN.

Like 4 times in 5 days.

Here is proof:
It's been a long time since I have laughed as hard as I did on my Florida excursion. We discovered that we're pretty funny ladies! I have TONS of pictures that I need to upload in Picnik so those will be in another post but I DO have a picture from JennyKate. She went to Forks last week. If you're a Twilight fan, you know of this place. Look what she sent me:
Of course I'm Team Jacob and she knows it and supports my decision. Haters not need comment, m'kay?
I will leave you with a short video from my trip to the Sunshine State.
To post the whole video would have been crazy insane long and only funny to a few.
Don't worry. There will be another video next Tuesday and if you want to see me do some pushups while intoxicated, please click HERE.
Did you write a Tuesday post? If so, link that baby up with us! I will be commenting from the airports I will be visiting today
BECAUSE THAT'S HOW MUCH I LOVE YOU! ♥
XOXO,