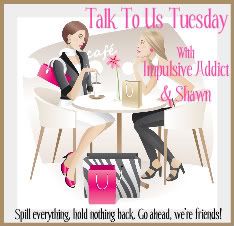 Shawn

and I are here again for week #8 of our linky party and I must say--it gets better and better each week! We had almost 40 link-ups last week! Thank you! I've made tons of new friends and I hope you guys have too.
This week, I'm linking up with Emmy Mom for her 10 Things to Smile About meme. And guess what? I can because there are

NO RULES

for TTUT! *NANA-NANA-BOO-BOO*
1. I painted Emma's toes for the first time. Don't look closely. This little girls toes are ridiculous. Poor thing.
2. Golfed as a family and was happy about it.
3. Emma walked Lexi all by herself in the street
(with supervision)
. No need to turn me in people. I've got connections.
4. I spent quality time with framily (friends+family) and took some interesting pics to prove it.
So sweet!
5. I finally started Christmas shopping and it shows on my credit card statement this month. Oy.
6. Emma is a shoe
whore
goddess and wears my shoes better than I do which is just sad. I twist an ankle in heels every time.
7. We attended church more often this month.
(Lord knows we needed to)
8. Emma loves to help in the kitchen so letting her "help" me has been fun. I use the term loosely and sarcastically. It's about creating memories so the headaches are worth it.
9. I've made new bloggy friends this month and I'm loving getting to know them.
10. Halloween fun was had this weekend. WARNING: Picture overload. Just scan quickly. I'll never know.
Wishing she could reach the peddle
Pimps and ho's
A family of Smurfs
A wolf
A scary angel?
Twin lady bugs
One ugly female
Thing 1 and Thing 2
Friendly witches
Um, YIKES! An ax murderer?
Bud (he was there with Sissy)
I'm stumped.
The all-you-can-drink bar
Is she from the Addam's family?
Did Papa Smurf shart his pants?
The Swinging Superman <--not a joke.
Did you write a Tuesday post? Link it up! All the cool peeps are doing it!
<---I'm just kidding.
What I'm

not

smiling about is getting around to visiting all my bloggy friends. I've been a busy, traveling fool but I'll get back on track this week! Please forgive me.
FYI: On Tuesday's, I visit everyone that links up and comments on my post and then I hit up everyone else. I just felt the need to share that with you. =)
HAPPY TUESDAY!