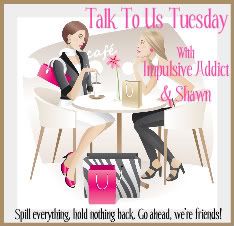 Hey Lovies! I'm back for a 12th week of TTUT hosted by the sassy Shawn and yours truly. I know we're all busy from now until after the first of the year, but if you are planning on posting something on Tuesday, why not link up with us? We have no rules! You can link up anything!
Need ideas?
This is the time of year for great blog writing! Let me know if you want some topics. I have a list of them!
The last few weeks have been a blur. I haven't been on blogger or Pinterest much at all and you know how much I love both of these activities, right? Well, it will get worse before it gets better. Please don't break up with me. PLEASE?
PLEASE?
I've been a traveling fool lately. We traveled to the land of polar bears for Thanksgiving. I did LOTS of baking, cooking, dishes. Rinse. Lather. Repeat. I gained a shocking 5 pounds! I wonder if that's because I stuffed my face with everything I could get my hands on for the ENTIRE TRIP? Hmmm. Maybe. But it will take me weeks to shed 5 pounds. Hi. My name is IA and I'm addicted to food.
While in Michigan, I accidentally got drunk at the bar while dealing with an asshat stranger that kept telling M that in 21 years, I will be leaving him for another man. I may have set him straight in NOT a nice way. And I may have tweeted and texted some friends that said I was an angry drunk. I blame the asshat at the bar.
Our flight home on Saturday was cancelled. Lovely. We were then booked on Sunday morning for a 5:45am flight. WTH?
Are you serious?
That's leaving at 4:45am
MY TIME
and getting up even earlier with a toddler. It wasn't a great experience on my part but Emma did great. We almost lost our lives in the cab ride to the airport.
I'M NOT EVEN JOKING.
Our layover in Chicago was long. At one point, all 3 of us were sleeping in the airport. I was sprawled out on a bench seat (probably snoring), looking completely white trash and woke up with strangers staring at me as I wiped drool from my mouth. I did manage to take this pic with my iphone:
Nope. Not of me with drool. Duh. I wouldn't embarrass myself like that. But Emma was a daddy's girl during our plane rides. I think it's because he kept giving her sweets and suckers.
I have a question. I've been seeing these types of toilets lately but I'm not convinced of their cleanliness. Do you think the same piece of plastic just keeps rotating? This was from one of the airports.
You know I hate public restrooms but my bowels love them. But these rotating things seem kind of fishy to me. Thoughts?
Moving on....
I leave for Denver on Thursday with my momma. I can't WAIT to take in all the gorgeousness and spend some good quality time with her and maybe meet up with Connie while I'm there. I'll be heading to Georgetown for a little shopping too. What would you like for me to buy for you?
And finally, I started a new page called IA the Chef? and the link is at the top in a weird spot. It's nothing big. Just a few recipes that I make over and over that I think are fabulous and decided to share. I just need to figure out how to put it up with the rest of my tabs at the very top. Anyone wanna help a sister out?
I hope you have a great week and I look forward to reading your TTUT posts!