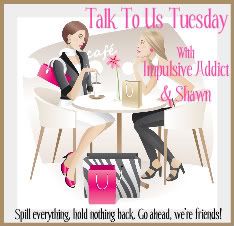 Hey friends! It's time for my WEEKLY blog post {Gosh I'm such a blog slacker lately} for

Talk To Us Tuesday

hosted by one of my favorite IRL people, Seriously Shawn and of course myself. If you have a post up or are planning to write a post, link up with us and

TALK

to us! We love being nosey and the juicier the better! =)
I have to start this TTUT post off with some sad news. If you know or read
Date Girl
, then you need to know that she delivered her sweet baby girl on Sunday. She was 19 weeks pregnant with her first baby, lovingly nicknamed Roo. She's had complications with bleeding throughout her journey but the doctors told her Roo was fine.
While on pelvic/bed rest and unbeknownst to her, her water broke a couple days prior to Sunday. She started experiencing back labor and Match immediately drove her to the ER. She was then transported via ambulance to a Labor & Delivery hospital nearby. The news was heartbreaking. There was no amniotic fluid and the assumption was the baby would be stillborn, which she was.
Date Girl got to hold her sweet beautiful baby and sing to her while the nursing staff took pictures and got her hand/footprints. The delivery was quick and effortless. As you can imagine, her and Match are devastated and heartbroken for the baby they were longing to bring home in a few more months.
If you pray, please pray for comfort and peace. I can not imagine what they are going through. If you have time, please jump over to her post from yesterday by clicking
HERE
and send her some love. No words will make the pain go away but blogger love is always appreciated. She will be taking a much deserved break. If you don't hear back from her, just know that she's reading your comments and will get back to you when she's ready.
I hate sad news. Don't worry....I'm not ending on that note. I have to give a shout-out to my girl Stacy from Stacy Uncorked. This girl sent me THREE bottles of her own homemade wine! Do you know how excited I am to try it?? I swear, bloggy friends are so thoughtful!
I'm waiting for a special occasion to come up before I open them. I have a feeling it will be the BEST wine I've ever had! I'll let you know! Thank you again, Stacy!
If you follow me on Instagram, you may have seen these next few pictures.
Check out my big girl getting her teeth cleaned for the 2nd time! She was so good! This makes a momma proud. My advice: The earlier the better. She was too young to be scared.
This is NEVER something you want to see in your rear view mirror:
Don't worry....Emma and/or my cleavage got me out of a ticket. I almost hugged the po-po officer for letting me go with just a warning.
Do you have an instagram account? Let me know so I can follow you! You can find me at user name one_impulsive_addict. I get on daily. You know I love stalking pictures.
Link up with us and we promise to be your bestest friends! =) Have a great Tuesday!!