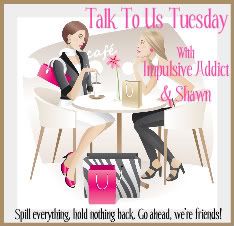 Hey friends! It's time to "talk" to Shawn and I for Talk To Us Tuesday! Isn't this a crazy busy time of year? It makes me want to drink hot chocolate spiked with liquor while I wrap gifts and bake (and eat) all things fattening...like my azz needs more dimples. But please stop with the Christmas music. It makes me cringe.
There. I said it.
I don't like Christmas music!!
I'm taking a mini vacation in Texas for a few days with the family and blogging from the iPad is not ideal. Yep, I'm flaking out this week. Surely you aren't surprised. I'm the worst weekly blogger EVER.
We celebrated Emma's 3rd birthday on Sunday:
And she was such a BRAT that she received a few beatings
swats on her special day....and not the birthday kind either. I also heard on Facebook that 3 is worse than 2. If that's the case, I'm selling her on Craig's List. I'm not even joking.
Yes I am, Mom. No need to text me. ;-)
And I can't sign off without leaving you with a picture of my sweet baby, Drew:
Now it's your turn. Link up with us! I'll try to leave some comment love when I return home! Love and Miss~