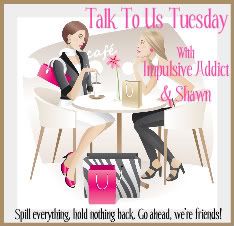 I have a secret...let's see if you can figure it out.
It's Tuesday which means it's time to link up with my ever so fabulous, skanky, and totally sexy co-host, Seriously Shawn.

NO RULES

, just lots of trash talking fun. Don't make me beg you to link up!
I have a killer headache and my internet is acting a fool. I guess I should have actually paid the bill instead of buying meth. What? Are you judging me? Don't you dare judge me!
Remember my FB stalker? The very young but cute Hispanic janitor from my previous school? No? Well, you can read all about his craziness here.
He's back. I mean I can't blame him for falling in love with me....after all
I am t
he life of the party and I have great boobs. I'm a boob girl ya know. But seriously, enough is enough. This has gone way past creepy! He has me so freaked out that when I'm home alone, all I hear is The Police singing Every Breath You Take...
He messaged me again and it wasn't to apologize for that cheesy wanna-be Mobster red shirt and cigar hanging from his mouth. It was another plate full of broken English with a side of crazy. I really need to stop eating Bon-Bons and planning vacations with my bloggy bestie for my anniversary all day and search for higher levels of security on FB. Signing up for a concealed weapons class might not be a bad idea either.
His message this time was short, not like the others where he's professed his undying love for me over and over and over.
Who's death?
to be continue u n me...
WTH does that mean?
What do you think? Any suggestions on what to do to make "Pedro" GO AWAY?
What are you talking about today? Link up and then go visit Shawn. Be sure to tell her how incredible she is. I don't tell her as often as I should!
Oh the secret. Have you figured it out yet? Here's a hint- I have a SERIOUS headache and my internet is completely down which has left me no choice but to give out my password to my MILF friend, one with killer boobs, a great smile, and a hot husband. I SERIOUSLY hope I didn't make a mistake by asking her...
The more I think about it I should have asked JK to do this for me. Oh wait....she's too busy writing fanfic to blog anymore... Yeah, I'm good. I

SERIOUSLY

made the right choice!

**Thank you, SHAWN, for writing my post for me! You did a great job. What's fair is fair, right? Good news: MY INTERNET IS WORKING TODAY! I'm off to the gym but I will be visiting you all later today~